Latest news from world of asteroids and comets
2021 XM2, my third NEA discovery of 2021 from Piszkéstető Observatory
16 years ago, I joined the Spacewatch project, where together with about a hundred volunteers from around the world we searched for near-Earth asteroids. Then I found three NEO in half a year. You may say it was good luck. No doubt, it was. I remembered that joy of discovery on Friday, December 3, 2021.

In the early evening I received a message from Krisztián Sárneczky: "There seems to be an extraordinary event today." He hoped for a clear sky that night. This meant that after more than three weeks, we could search for new NEOs again. After dinner, I sat down at the computer and began my routine work. Download triplets to the computer, load them into Astrometrica and scan. My observation night is limited by my job, on weekdays I get up at 6 in the morning and go to work. That means, I have to finish NEO hunt around 11 p.m. In that time, I'll look at about 20-30 triplets.

On Friday, after three hours of viewing, I loaded the 18th star field. After setting the image to view, I launched a blink. I immediately registered a short trail in the upper left corner, just at the edge of the image. The trail was evident in the second and third images. I had some doubts about whether it was a real object, as it did not have exactly the same shape. In addition, the third position was missing. But this could be logically justified, at the time of the first image, the object was out of field of view. I sent the coordinates to Krisztián. After five minutes he responded very shortly: "Hmmmm." Another 7 minutes passed, when he asked: "How on Earth did you notice it?"
Discovery image of 2021 XM2, 3.12.2021, at bottom, near right corner. Photo: K. Sárneczky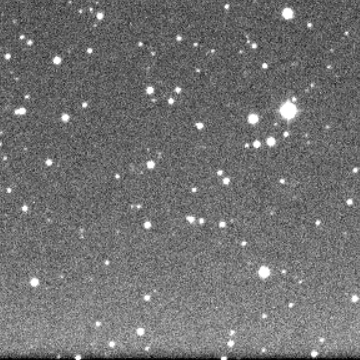 Meanwhile, I reasoned to myself why this should be a real object, Krisztián immediately interrupted the planned shooting and went to confirm the discovery. He was able to confirm it and sent data to MPC as SaKurTC. After being published on the NEOCP website, the asteroid was first confirmed from the Višnjan Observatory in Croatia, followed by others from Europe and the USA. In the next morning, our object had 33 positions. Unfortunately, it was cloudy on Piszkéstető on Saturday, we could only hope that it would be clear elsewhere. It was in England, and when Peter Birthwhistle observed it, it was clear that the new NEO would not be lost. It was subsequently captured also by Robert Holmes at Astronomical Research Observatory, Westfield, USA. And that was already enough data to assign the new NEA. I woke up on Sunday morning and the first thing I read was the MPEC announcement of the MPC about the discovery of a new Apollo type near-Earth asteroid: 2021 XM2.

Of the twelve shots, 2021 XM2 was visible on the second and third images, and then on the last three, but there it could only be guessed. Had I selected the other images, I wouldn't have found it. And If the shooting had started few minutes earlier, the asteroid would have been out of field of view. It would escape our attention again. Krisztian was right, it was exceptional.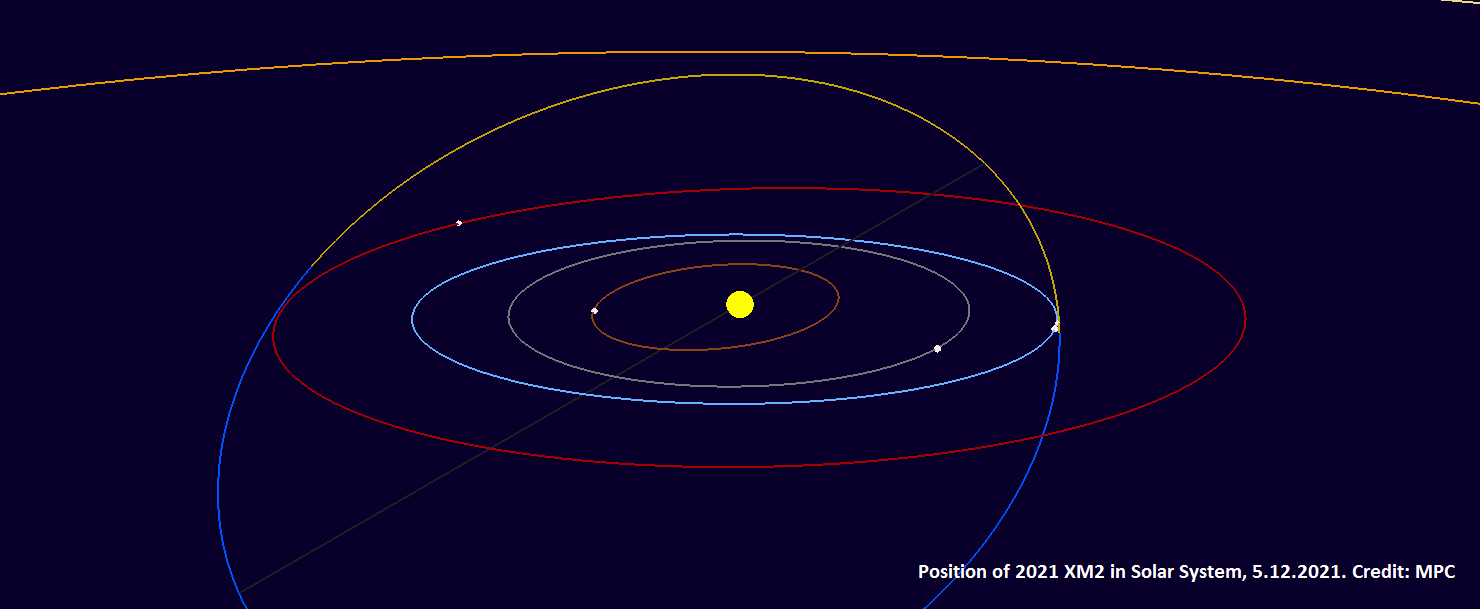 Apollo type NEA 2021 XM2 in Solar System, 5. december 2021. Credit: MPC

If there were an award for the "European Discoverer of NEO in 2021", Krisztián Sárneczky would undoubtedly win the prize with 42 NEO discoveries, including 2021 XM2. And I contributed to three of them. I recalled the feeling after finding my third NEA just before Christmas 2005, that pleasure was still the same.



5. dec. 2021

Read more "news" here!